100% Handmade
We Recycle & Refurbish Used Newspaper Boxes to create the perfect piece for you.
Recycle Effort
Each purchase keeps 85 lbs of metal or plastic out of the landfill!
Customized Boxes
We have a collection of boxes you can customize with special colors & decals.
No Assembly Required
No need to get dirty! Our boxes come completely assembled & ready to use.
One Of A Kind
Record Player Stands
Introducing our Record Player Stand Collection! These are perfect to use in your home as a one of a kind statement piece or for someone who loves music and vinyl records as much as we do!

Pair with your favorite record player on top, these recycled newspaper boxes can hold up to 75 of your favorite vinyls!
See More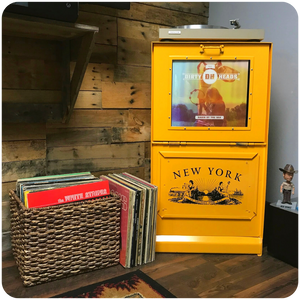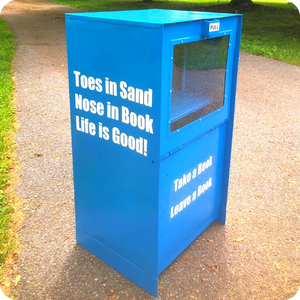 Customize Your Sidewalk Library
Create your own Sidewalk Library or Pantry for your community! Up to 3 decal locations and perfect to share reading or coloring books, paints, foods and more. We offer plastic or metal Sidewalk Libraries. Our Repurposed Newspaper Boxes are an eco-friendly option to the alternative wooden library. Our boxes are weather-proof and pre-assembled. Every box purchased helps the community and our recycling mission!
SEE IDEAS
A Few Of Our Bestsellers
We love all of our custom designed/recycled newspaper boxes but these are a few we just had to show off!
View More
View Our
Customer's Designs
This is definitely our favorite collection! We love seeing your ideas and designs come to life. No idea is too big or too small - just send us a message and we can accomplish it all.
We have a variety of colors to choose from! Click the button below to some of our previous art.
Check it out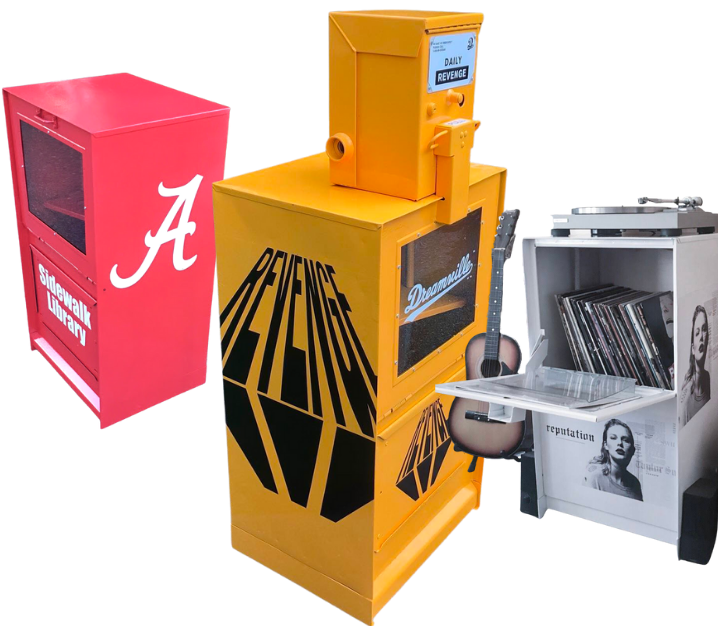 "OMG this is such an amazing present for my journalist husband! It's actually a refurbished newspaper box. Loved the painting on it, colors were wonderful. It was pack with loads of care. Perfect accent piece for the study. My husband loves it! Thank you!"
— Nancy
"Quality record holder! Very unique and instant conversation piece. Looks great in my apartment."
— Anthony
"We are some of the few people left that read print news and listen to records so this was the perfect addition to our home. I'm so happy I found this shop. Item quality was great, the owner was quick to respond to messages and I am very happy with this piece. Awesome shop!"
— Dina
"Incredible item, great work and excellent communication. Thanks so much! If you're thinking about their items, go for it!"
colors. And I am not done."
— Jeffery
"This exceeded my already high expectations! It's fits so perfectly in our space and we get so many compliments on it. Seller was quick to respond to questions. It was well packaged for shipping and came in perfect condition. Highly recommend!"
— Yvonne
"This cabinet is the most perfect addition to my living space! It combines my love of vinyl records and upcycled furniture. Truly a one of a kind piece! Seller was great to work with!"
— Leah